Symi
1976
Order Online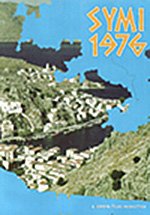 $44.00
Schools, Hospitals, Institutes, Churches, Community Groups
$180.00
Federal & State Libraries, Universities, Government Departments
Shipping Charges
Delivery within Australia: $14.00 per unit plus $4.50 each additional unit
International delivery: $25.00 per unit plus $8.00 each additional unit
Add to cart
Prices are in Australian dollars
Filmed in 1976, "Ten Times Empty" recalls this small Aegean island at a time when there were no cars on the island. Donkeys were the only means of transport and Tourism was in its infancy. And local fishermen's catches were diminishing.
In 1976 the barren, sundrenched Greek island of Symi had two resources: the surrounding sea and the legacy of a richer past. Life centred on the small township set around a deep natural harbour where the cafes were exclusively filled with men.
The customs and habits in Symi continued unchanged: the dowry system, the funeral processions, the periodic community announcements over the town loudspeaker, the church bells summoning almost 3,000 people to Sunday services.
Measuring 79 square kilometres, the only access to Symi was by boat from the island of Rhodes. There were no roads and no motorised transport.
A small tourism industry was emerging but fishing is the traditional family business. An old Greek proverb says, "The plate of a fisherman is ten times empty and one time full". The contemporary implications of this bitter statement are seen through the eyes of 12 year old Vasilis and his family, whose lives as fishermen had become increasingly difficult.
A basic change was underway due to depleted resources. More Symiots were leaving and emigrating in order to make a living. The future of Symi was uncertain.
Modern Language Festival, USA: Silver Award (Ten Times Empty)
Format: DVD Running time: 38 min