Peggy Glanville-Hicks
A Modern Odyssey
Order Online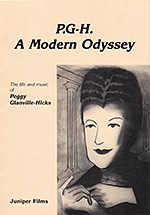 $79.00
Schools, Hospitals, Institutes, Churches, Community Groups
$270.00
Federal & State Libraries, Universities, Government Departments
Shipping Charges
Delivery within Australia: $14.00 per unit plus $4.50 each additional unit
International delivery: $25.00 per unit plus $8.00 each additional unit
Add to cart
Prices are in Australian dollars
The fiery journey of a courageous and passionate woman through many countries and many friendships, through great loves and tireless work brought her to a spectacular triumph.
Ralph Vaughan Williams, Arthur Benjamin, Constant Lambert, Sir Malcolm Sargent, Nadia Boulanger, Virgil Thomson, Bela Bartok, Robert Graves, Teresa Stratas were all part of and shared in her brilliant career. But at the height of her powers she was struck down like the victim of some tragic myth. The life and music of Peggy Glanville-Hicks (1912-1990) with contributions from Paul Bowles, Lou Harrison, Yehudi Menuhin, John Butler, Peter Sculthorpe and Charles Blackman. A television special. (1990)
American Film and Television Festival: Red Ribbon Award.
Format: DVD Running time: 57 min