Listen to Our Voice
The historic first Papal visit to the South Pacific
Order Online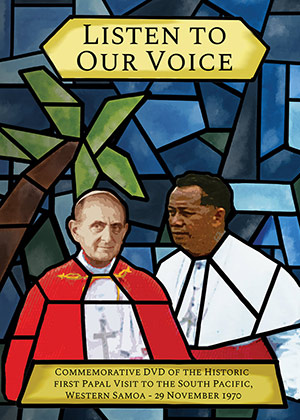 $44.00
Schools, Hospitals, Institutes, Churches, Community Groups
$180.00
Federal & State Libraries, Universities, Government Departments
Shipping Charges
Delivery within Australia: $14.00 per unit plus $4.50 each additional unit
International delivery: $25.00 per unit plus $8.00 each additional unit
Add to cart
Prices are in Australian dollars
LISTEN TO OUR VOICE is a commemorative DVD of the historic first Papal visit to the South Pacific, November 1970. It is also a tribute to the devoted service of the Marist Brothers and Missionary Sisters of the Society of Mary who first came to Western Samoa over 150 years ago.
The DVD includes a profile of the young boy, Pio Taofinu'u who, with little or no early education, was to become a seminarian, ordained a Priest, Bishop, and made Cardinal in the course of his life. The film also recognises the valuable contribution of Little Sisters of the Poor to the welfare of the aged in Samoa.
Discounted prices for 6, 12  or more DVDs, as suggested gifts for other Home Viewers. Enquire for further details

Note: In order to produce this DVD, Juniper Films has repaired and edited the image and audio of the original film shot on 16mm Ektachrome.
Format: DVD