Listen to Our Voice
Order Online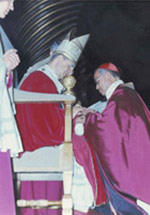 Commissioned by the Roman Catholic Mission of Samoa to record the history of the Mission and the short visit of Pope Paul VI to Western Samoa in 1970.
Juniper is endeavouring to raise funds to produce a commemorative DVD of this archival film. The DVD will also include an interview with Cardinal Pio Taofinu'u and scenes at Mapuifagalele.
The commemorative DVD to be issued in January 2018 will restore the 1970 film of this historic first Papal visit to the South Pacific.
Running time: 30 min